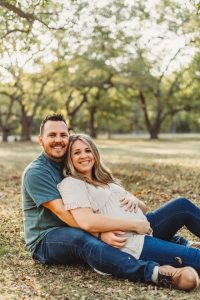 Jordan Anson has been working at Falls Creek since 2015. She has helped in many different areas of Falls Creek and knows the ins and outs, but her reach goes much further. Besides serving at Falls Creek, Jordan is also a youth pastor's wife and serves diligently with her church. She was kind enough to answer a few questions about her time here.
Creek News: What was your experience with Falls Creek as a student?
Jordan Anson: I began attending Falls Creek as early as Young Musician's Camp with my home church of FBC Midwest City. I remember visiting my older brothers one night during their week of youth camp and experiencing the evening service for the first time. Bill Green was leading the students in a song called "Saved!" and all I could think was, "what are they even talking about? Saved from what?" Visiting Falls Creek that night changed the trajectory of my life. I realized the importance of asking good questions, including that of my eternal salvation. I'd soon give my life to Christ as a result of what I'd experienced at camp that night. I was 9 years old at the time. I would attend Falls Creek as a camper or sponsor every summer beginning in 2003. 17 years and counting!
CN: How did you end up working at Falls Creek full-time?
JA: My husband and I were called to serve at First Baptist Church in Ardmore in the fall of 2014. I knew nothing of the area or what work would be available for me, but was trusting God's timing. After six months of unemployment during that transition, a childhood friend of mine called with a job opportunity at Falls Creek. He knew we'd recently moved to the area and thought I'd be a good fit for the opening. I met with Dr. Swain, director of Conference Centers at the time, and interviewed for the job of Marketing Representative. I was hired in January 2015.
CN: What work areas have you served in?
JA: My position for Marketing Representative quickly evolved and was adapted to Guest Experience Leader within the first year of being here. My main job responsibilities include handling all booking events through the conference season.
CN: What is the dynamic like working for Falls Creek AND being a youth pastor's wife?
JA: This is the best! Working for Oklahoma Baptists is the perfect match for me, while serving in student ministry at our local church. Same mission, same mindset, and it's often a blessing when events overlap "at work" and with my local church.
CN: What is a highlight of your time here?
JA: Fun fact – my husband and I got married at Falls Creek in 2014! A small, intimate prayer garden is built behind the FBC Midwest City cabin and means so much to both our families! April 5, 2014 was one of the best days of our lives and that took place right here at camp. Related to work? Anytime I'm able to lead a student to Christ during the summer months – that is always the highlight!
CN: What has been the most difficult thing for you during the COVID-19 pandemic?
JA: Lack of travel, being pregnant, running out of [toilet paper…hmm.] NO. I'd say the absence of quality time with family and friends, including our student ministry kids, has been the biggest challenge to COVID-19. It's also been quite a mental game of not always knowing what's best to do!
CN: How can people best pray for you during this season in your life?
JA: My husband and I welcome prayers as we welcome our second child into the world near the end of 2020 or beginning of 2021! We have one daughter and are excited to welcome our son in the next month or two!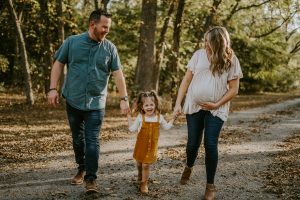 We're so thankful for Jordan and the work she does! Please join us in praying for Jordan and her family as she finishes out this pregnancy!