Meet our Falls Creek Conference Centers Food Services Team! They have a passion for food and a willingness to serve. Call today to ask about a meal plan for your group! (580)369-2101
Geoff Hughes, Food Services Manager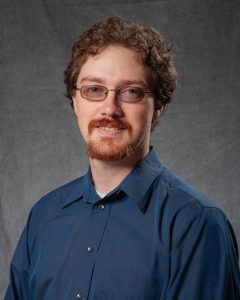 Falls Creek made a major impact on Geoff Hughes' life during his teenage years. When camp recruiters visited him at Oklahoma Baptist University (OBU) his freshman year, he said he felt a calling to apply for summer staff.
"I spent a summer working in concessions at Falls Creek and had a good time," Geoff said. "The former food services manager, Don Brown, invited me to help out in the kitchen during conference season and I learned that I really enjoyed working in food services."
Geoff did not have much cooking experience prior to his job at Falls Creek.
"I had no interest in food and was only able to cook basic meals, but I soon became interested in learning how to cook more advanced dishes," he said. "I was attending OBU at the time for youth or pastoral ministry and God said, 'I have something else planned for you.'"
Two years later, Geoff discovered that plan was to serve at Falls Creek and CrossTimbers full-time. He worked in the kitchen as a food services associate for five years until transitioning into his current role as Food Services Manager. Geoff has contributed to adding new menu items during his time at camp, including chicken bacon pasta. The dish includes penne pasta, chicken, bacon, tomatoes, spinach, Italian seasonings, and Tuscan garlic, all smothered in a white cream sauce.
"My hope is that when people eat in our dining area, they are refueled and ready to listen to what God has to tell them while they are at camp. I never want them to be distracted by their hunger."
When Hughes isn't working he enjoys reading, playing video games, and eating a properly made lasagna.
Jan Shaffer, Food Services Assistant Manager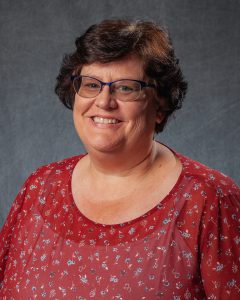 Jan Shaffer's love for cooking began at an early age. She cooked her first meal, a southern classic chicken fried steak with okra, at 10 years old. During that time, her mother had her plan and cook one dinner per week under close supervision. She learned how to prepare various recipes and experiment in the kitchen. It wasn't until 2006 that Jan's culinary background merged with her career.
"I was the assistant manager at Camp Canyon when our food services director had to leave on worker's compensation," she said. "It was then that I was asked to take over in the kitchen and it was trial by fire but I had a good time."
Four months later, Jan left Canyon and accepted a full-time food service position at her local church. It was there that she was told about Falls Creek and an opportunity to serve on the camp's food services team.
"In November of 2017 I came to do hands-on observation in the Falls Creek kitchen, and two months later I was hired. My favorite part about working in the kitchen has been baking."
Since her hire date, Jan has contributed to adding new dessert ideas to the menu, including her lemon blueberry cake recipe (a staff favorite) and caramel apple crumble cake recipe. During her free time, she experiments with other recipes to find crowd-pleasers.
"There is a common misconception that camp food is not high-quality food, but Falls Creek's food is," Jan said. "I hope guests are pleasantly surprised with the food they have consumed when they visit, and that it is above typical 'camp food' quality."
When Shaffer isn't working she enjoys antique shopping, reading, crafts, and discovering walking trails with her two dogs, Scout and Lucy.